Welcome back to Campus!  Hope you are excited about Spring 2013!
If you are looking for textbooks for your classes, the library might be able to help.  You can search the Roosevelt catalog for the books, or expand your search to over 70 I-Share Libraries.
Searching Roosevelt's Catalog
Go to the library's home page
Click into the keyword box under the words Search RU Catalog
Type your book's title or author in the box, select title or author from the drop-down list, and click Find.



Location will tell you where the book is located (Auditorium, Schaumburg, Reserve, etc.)
Call Number is the number you will need to find the book on the shelf.  Books are listed first by the letters alphabetically, and then follow the numbers in order on the shelf.  If you need help with this, ask any library staff membre.
Copy lets you know how many copies of this book we have.
Status is very important, as it lets you know whether or not the book is here and available for you to take home.
Searching I-Share Libraries
Go to the library's home page
Click the keyword box under the words Search RU Catalog
Type your book's title or author in the box, select title or author from the drop-down list.
Change the drop-down menu that says Local Catalog Only to All I-Share Libraries, and click Find.
When you click Find, the I-Share catalog will open and will show whether the book you need is available in another I-Share library. If it is available, you can request to have the book delivered to the Roosevelt University Library location of your choice by clicking the Request 1st Available link that appears below the book's Status in the Location tab: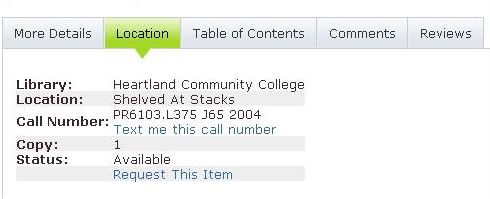 NOTE: if you do not want to wait for a book to be delivered to the library, check to see if it is available in an I-Share library near you. If so, you can check it out directly from that library using your Roosvelt ID card. Some materials may be restricted, so it is a good idea to check with the library first before visiting. Click Here to view a list of Illinois I-Share libraries.
Looking for more instructions for searching I-Share? Attend a Library Workshop on finding and requesting books.  Read more HERE.  You can also view a list of video tutorials covering advanced searching techniques in the I-Share and RU catalog by clicking HERE.
*Please note, we are no longer able to request any course required texts through InterLibrary Loan (ILL).  If you request a required texts from ILL, it will be cancelled.
To contact the Roosevelt University bookstore about purchasing your books, visit their webpage HERE or call 312-341-3592.
If you cannot find your textbook through Roosevelt or any I-Share Libraries, here is a list of discounted sites and textbook rental sites that could prove useful in your search. 
Disclaimer:  RU is not endorsing any of these sites.
Discounted Sales
www.bigwords.com = 'The sweetest, cheapest textbook deals on the planet'.
www.alibris.com = Use the "Textbooks" tab to search for new & used textbooks.
http://textbooksrus.com = 'The books you need, the prices you want'.
http://www.abebooks.com = Use "Textbooks" to search by ISBN, Author, or Title.
http://www.isbns.net = Searches over 100 bookstores and 60,000 booksellers in seconds.
http://www.half.ebay.com = Use the "Textbooks" tab:  Author, Title, Keyword, or ISBN.
http://www.cheapesttextbooks.com = Help in finding extremely cheap college books.
http://www.getcheapbooks.com = Compares 7 million prices for new and used textbooks
Textbook Rental Sites
www.chegg.com = is about 50% cheaper than actual purchasing
www.campusbookrentals.com = text in your reservation using a cell phone.
www.bookrenter.com = "Here to make education more affordable".
www.skoobit.com = Browse by category or Search by ISBN, Title, Author, or Keyword.
Do not hesitate to contact us with any questions.